Magento Commerce
Magento is the leading platform for open commerce innovation. Create engaging, shoppable experiences with Magento Commerce. See how our next-generation technology, global partner ecosystem, and extensions marketplace can breathe life into your business. Choose the best Magento ecommerce solutions.
Magento Commerce features
With Magento solutions you get faster content deployment, promotions are created easy and faster, better user experience. Use modern, drag-and-drop tools to quickly create and launch new compelling content and deliver best-in-class shopping experiences without the need for developer support.
All that you can get easier

Read less ...

All that you can get easier when working with Page Builder, User Experience is very important in every freshly created website. You can also benefit from many differnt options like offering customers to buy online or pick up in store, Ship inventory to the right store at the right time. There are also very important easy integrations with existing back-end systems, assigning custom catalogs and price lists, boosting sales with fast and convenient purchasing options, centralized data and defined metrics. Integrated B2B, Business Intelligence and Marketplace. Customize your commerce experience with thousands of extensions and themes in Magento marketplace.
When you're looking for Magento 2 developers in Toronto to maintain or upgrade Magento ecommerce platform from Magento 1 to Magento 2 hire best Magento developers or even better look for Magento ecommerce development Company. There are many very neat and important tasks to do when migrating from Magento 1 to Magento 2. Keep your data safe. And that's not all where we can help. Since 2007 we design online stores, providing SEO optimization services, and creating online advertising. As a result, we know what every business needs to reach its target customers online. Dimax agency team can help you update or create a new website design that will better attract customers and drive to your goals.
Magento Open Source
Magento Open Source software delivers basic eCommerce capabilities that allow you to build a unique online store from the ground up. This solution will help you to start your first professional website that can be grown to a large scale e-commerce system. For those who need already working and a pretty full featured eCommerce solution we would recommend to try Magento Commerce which includes optimized cloud architecture and hosting as well as AI-powered merchandising and analytics.
But remember that every custom built Magento open source ecommerce system can be easily built with experienced magento developers

Read less ...

But remember that every custom built Magento open source ecommerce system can be easily built with experienced magento developers that can help you in every step and would get you even better and faster Magento system by optimizing code, servers and processes exactly acording to your business needs. And if you're still using old Magento 1 then don't forget that it is very important Migrating from Magento 1 to Magento 2 soon as it's possible (because of data security and new great features).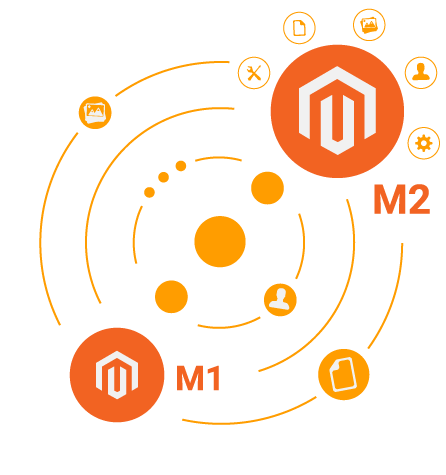 Ready to get started?
To learn how you can make the most of Magento Commerce or Magento Open source, request a personal consultation from dedicated Magento developers and start new successful Magento ecommerce project.